VIES VAT numbers validation
VAT Information Exchange System – abbreviated VIES – is a tool provided by the European Commission that allows you to check the validity of VAT numbers of companies registered in the European Union.CPA Books provides a feature to Verify VAT Numbers when you save a contact. This helps you make sure that your contacts provided you with a valid VAT number without leaving CPA Books interface.
Configuration
To enable this feature, go to Accounting ‣ Configuration ‣ Settings ‣ Taxes, enable the Verify VAT Numbers feature, and click on Save.
---
VAT Number validation
Whenever you create or modify a contact, make sure to fill out the Country and VAT fields.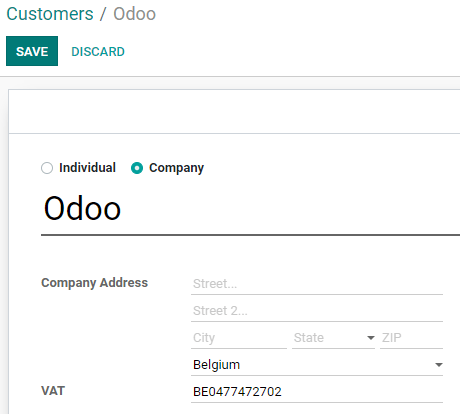 When you click on Save, CPA Books runs a VIES VAT number check, and displays an error message if the VAT number is invalid.